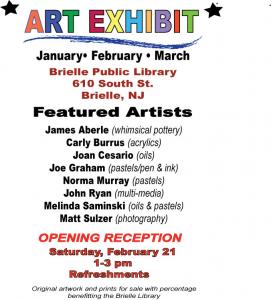 Group show featuring local New Jersey artists currently going on at the Brielle Public Library, 610 South Street, Brielle, NJ until the end of March.
Award Winning Artists include: Melinda Saminski, (Oils and Pastels), Joan Cesario (Oils), James Aberle (Whimsical pottery), Carly Burrus, (Acrylics), Joe Graham, (pastels/pen and ink), Norman Murray, (Pastels) John Ryan, (multi-media) and Matt Sulzer, (Photography)
Prints and original artwork for sale with some proceeds benefiting the library.
Artist Reception with reception is Saturday, February 21 from 1-3. All are welcome.